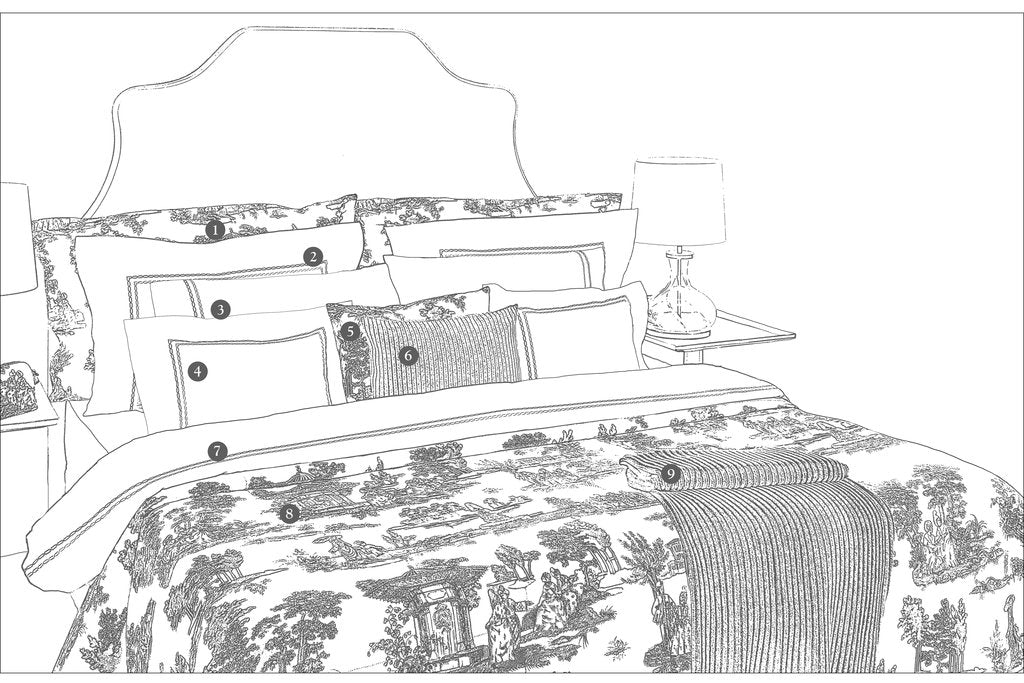 We have gathered useful information for helping yo to make your buying decisions easier and create the perfect bed styling for your taste. Scroll down to see the items from sheets to bedspreads that will let you create your dream.
(1, 5, 6) Decorative pillows: Prepared with fabrics that are different than those used in duvet cover sets, these pillows are used for decorative purposes. Usually the large decorative pillows are used at the back, and the small decorative pillows are used in the front. Large decorative pillows also allow you to sit up comfortably in bed.
(2) Shams: Shams are a complementary part of the duvet cover set, and feature flanges on four edges. On the bed, they are placed behind the Standard pillows. They are ideal to add a sophisticated touch to your bed arrangement.
(3) Standard pillows: Also called sleep pillows, the Standard pillows are the most commonly used pillows in the duvet cover set. On the bed, they are placed in front of the Oxford pillows. They feature embroideries that compliment the patterns on the duvet covers. You can combine Standard and Oxford pillows with duvet covers to create your own set.
(4) Boudoir shams: A complementary part of the sheet set, the boudoir shams are produced in smaller sizes than the Standard Pillowcases and Shams. On the bed two can be placed in front of the Standard pillows or just one can be placed in the middle. They are ideal to embroider with your initials to personalize your bed.
(7) Duvet covers: Duvet covers are one of the main elements of your bed arrangement. Our collection includes a variety of fabrics that are produced using different decorative techniques. Our duvet covers are also suitable for summer use thanks to their functional texture, and the light and highly breathable nature of our duvets.
(8) Bed covers: Bed covers, which are usually produced with the special limited edition fabrics of Haremlique Istanbul, match our decorative pillows. They are usually thin products that are quilted using different techniques.
(9) Throws: One of the final touches of the bed arrangement, throws, especially the cashmere ones, have a special place in our collections. They are woven with special cashmere threads for Haremlique Istanbul. Our collection also includes different fabric options. Throws can be placed at the foot of the bed or can be used as a cover on top of the duvet. They are an important detail for bed arrangements both with their functionality and their decorativeness.
---